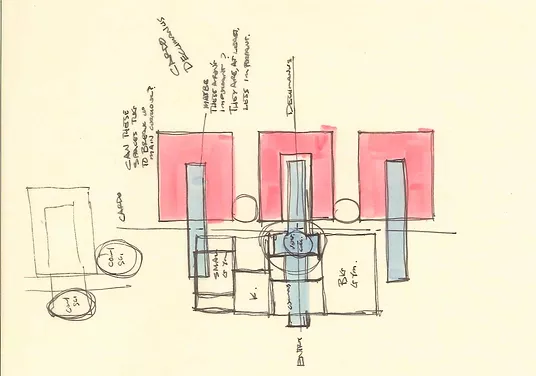 Creating Spaces for Community
If you want an architect who recognizes the important role your school district plays in your community, hire us. At Veritas we understand that life happens in your school buildings. Not just teaching and learning, but growing a strong foundation of community.
As the steward of your community, it's not even your money. You realize it's more than that. It's the money that your peers, neighbors and family have entrusted to you to use wisely to benefit their children. What an incredible responsibility. What to cut, what to keep, what to change? What will provide the absolute best education for our students in your district for your community?
Future generations will be reaping what is sown within this generation of students. The spaces in which your students learn matter. The right spaces foster learning, provides a better environment for teachers, and other goals that are specific to your District. These goals are what drive our efforts. We're here to support your community and your goals.
At Veritas we specialize in rural districts. We love the challenge of weaving design with the needs of the overall community while serving an educational purpose.
As architects, we have the depth and breadth of knowledge in many facets of the building process that individual contractors may not. We see the big picture and are able to manage the process of projects big or small by leveraging relationships we have with our most trusted construction partners.
We keep our egos well in check and don't aim only for the glamorous and hi-profile projects. We want to be in the trenches with you as you navigate some of the basic aspects of maintaining your rural educational facilitates. Veritas strives to be a long-term partner within the communities we serve – we hope you'll think of us as an extension of your trusted team.
Let Veritas help you with. . .
Educational additions – planning and designing classrooms, libraries, gymnasiums to accommodate expanding schools and meet the needs of your growing community
Master planning – guidance on master planning for the future of your individual community. Whether your community is growing or declining in population we will help you thoughtfully design projects that fit the needs based on your needs and available funds
Reappropriating resources – space in schools comes at a premium and reappropriating program spaces such as unused classrooms, art rooms and even libraries to accommodate programs funded by outside entities are helpful to the community in a number of ways.
We've worked on a variety of educational projects:
Republic High School in Republic, Missouri
Hickory Hills K-8 School; Springfield, Missouri
Atchison USD 409 Roosevelt School Renovation; Atchison, Kansas
Tonganoxie Elementary School; Tonganoxie, Kansas
Oakhill Day School Additions; Gladstone, Missouri
Union Elementary School #14; Tulsa, Oklahoma
Renovations Santa Fe Schools; Alma, Missouri
veritas: because the truth is, it's all about you
Your experience with Veritas will be seamless from start to finish as we guide you toward your goals for an incredible space for your community to grow and thrive. Let us take the pressures of managing a project with many moving parts off of your plate so you can focus on what you do best.
From site selection, community consensus building and bond issue discussions at town hall meetings to construction contracts and effectively communicating the process, there are many aspects to manage. Veritas will save you time and money by being your consistent partner overseeing every key detail of your endeavor. We would be honored to play a role in helping you support your community.