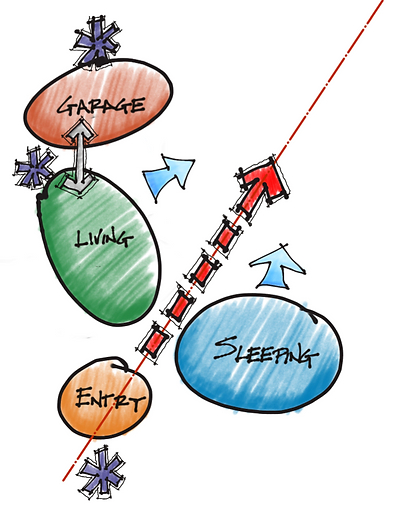 Extraordinary lives deserve extraordinary spaces.
Home is so much more than a shelter or structure. You and your family are the ones who will breathe life into the walls that Veritas designs with family dinners and celebrations big and small. Your home will one of your biggest sources of joy.
​Building or customizing a home gives you the power to make the most of what you want out of the space. And the possibilities are endless.
Embrace the process and the opportunity to grow with each step of creating the space you envision. Discover the joy in design and satisfaction in watching it come to life. Enjoy the journey, as well as the destination.
We remove the hassle and stress of renovating, extending or building from the ground up. It's an exciting time and it's important to us that you enjoy the experience just as much as we do.
Think of each piece of the design puzzle as a gift you are giving to your family. Piece by piece, together, we will build your dream into reality. Veritas will keep you thoroughly involved in the decision-making during the design stage, carefully consider your budget and include you on new developments as your project progresses – all while keeping your priorities top of mind.
Different clients have different needs so we offer multiple levels of design services.
The benefit to you is that you choose the level of service and support you want from limited custom to full custom plus. This puts you in control of selecting the level and service and detail that's important to you.
Limited Custom – you want a custom house, but prefer to select finishes independently.
Full Custom – you want a fully customizable home from start to finish in style that is unique to you.
Full Custom Plus – you want a completely customized home down to the artwork on the walls. We create continuity through every aspect of your home and curate a space that has dimension and allows your personality so shine through in every detail.
Beyond the buzzword of green homes, we have an understanding of the holistic approach to sustainable design. Travis Willson is a subject matter expert on sustainable design and has given presentations on a variety of topics in this area. For clients seeking full custom design, we walk you through the holistic approach to sustainable design process focusing on key elements.
Site Design – How do prevailing winds, sun angles, and site topography impact the design of your home?
Building Envelope – The exterior of the building matters, providing continuous insulation through technologies such as ICF (Insulated Concrete Forms), SIP (Structural Insulated Panels), ZIP insulated sheathing.
​Energy Usage – Utilizing energy-efficient LED lighting, Ground-source geo-thermal heating and cooling, and mini-split systems
Energy Generation – Once we've reduced the amount of energy used, we can start to generate our own energy to get close to net-zero energy usage.
Material Selection – Sustainable solutions allow for products that are created in an environmentally friendly way that are long-lasting and healthy for you and your family.
We have proudly completed home projects throughout the Kansas City Metro area including Parkville, Blue Springs, Lee's Summit, Raymore, Liberty and Smithville. Even if you're looking to build in Lawrence, Lansing, Springhill, and Plattsburg we welcome the opportunity to be a part of your home building project.
We're ready to hear your ideas. Or if you just have a few questions we're happy to lend advice in all aspects of the building process.